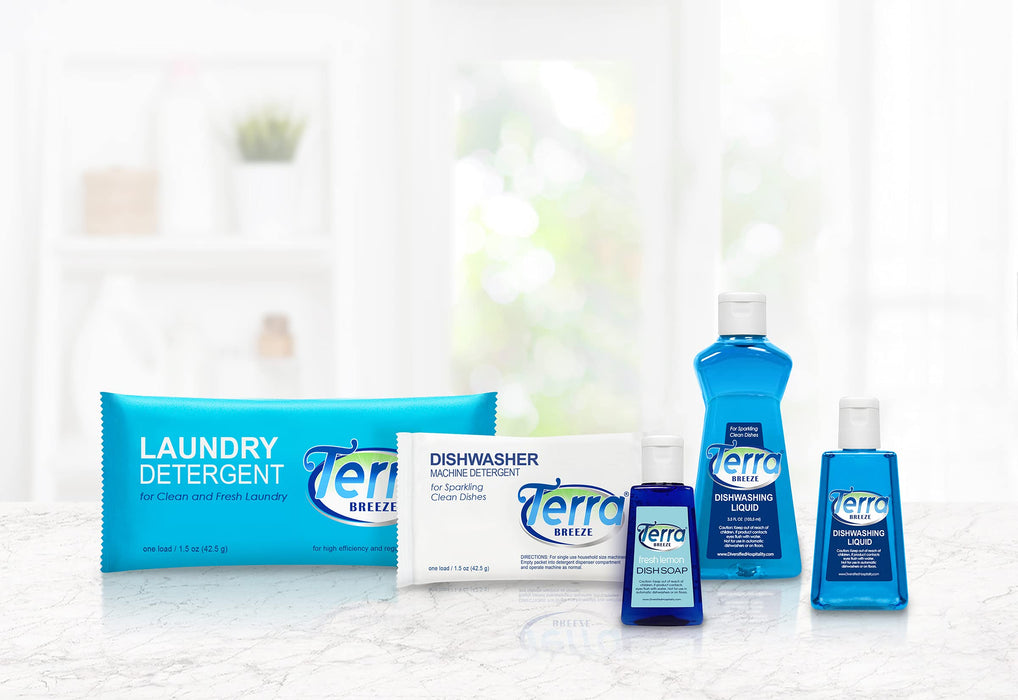 Terra Breeze Hotel Liquid Dish Soap Detergent, 3.5 oz (Case of 36)
DIVERSIFIED HOSPITALITY Terra Breeze 3.5 oz. Liquid Dish Soap, ideally designed and packaged for use in Hotel, VACATION RENTAL (AirBnB &VRBO), Motel, Bed and Breakfast, Guest Room, and more to provide INCREDIBLE hospitality service.
CONTAINS 36 individual TRAVEL SIZE Dish Soaps packaged in 3.5 oz. Tubes. LUXURIOUS look to magnify the quality of the guest experience.
Bulk Amenities/Toiletries: PARABEN FREE with VEGETABLE BASED formulas in EARTH CONSCIOUS packaging. DISPOSABLE for single use to easily prepare for the next guest.
Enriched with NATURAL & ORGANIC ingredients & NEVER tested on Animals.
Created with the ENVIRONMENT and well-being of CONSUMERS as a top priority.
Terra Breeze Liquid dish detergent comes in convenient, 3.5 oz. flip-cap bottles. This product will leave dishes sparkling clean and is ideal for guest use in hotels. All of our lines were created with the environment and well-being of consumers as a top priority. We use vegetable-based formulas enriched with natural and organic ingredients. We assure the satisfaction of you and your guests with any of our lines.