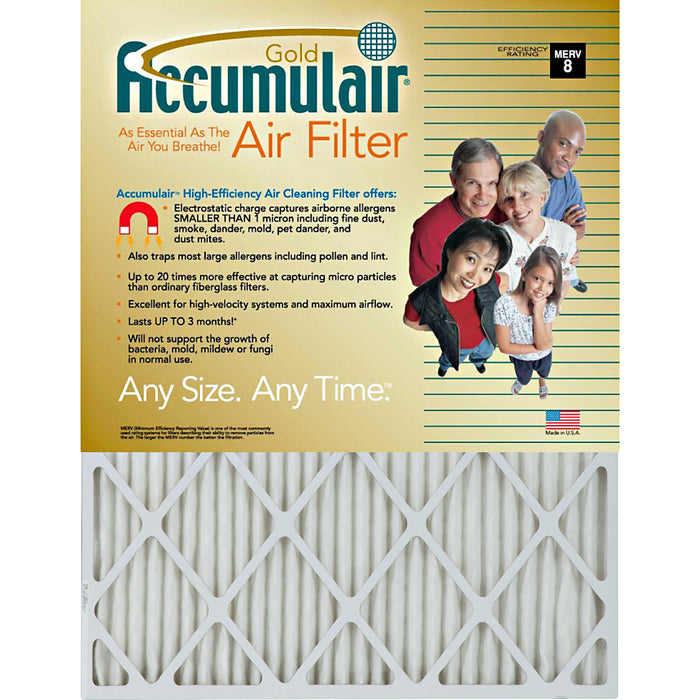 Accumulair Gold Air Filter
General Information
Manufacturer
:
Filters-NOW.com Inc
Manufacturer Part Number
:
FB24X304
Manufacturer Website Address
:
http://www.filters-now.com
Brand Name
:
Accumulair
Product Name
:
Gold Air Filter
Marketing Information
:
Gold air filter for furnaces and air conditioners features an electrostatically charged design to effectively capture airborne allergens smaller than one micron. High-quality construction provides up to 20 times more efficiency at capturing allergens than ordinary fiberglass filters. Its uniform pleat shape delivers a high level of dust holding capacity and maximizes airflow for effective performance for up to 90 days. Chemical-free construction eliminates worry of adding unnecessary chemicals to your air and does not support the development of mold, mildew, bacteria or other microorganisms in normal use. Air filter is designed to capture fine airborne allergens such as dust, smoke, pet dander, dust mites and more.
Packaged Quantity
:
4
Product Type
:
Air Filter
Physical Characteristics
Product Color
:
White
Height
:
24"
Width
:
30"
Depth
:
1"
Miscellaneous
Application/Usage
:
Remove Mold Spores
Removes Mildew
Remove Bacteria
Remove Micro Organisms
Remove Allergens
Remove Dust
Remove Smoke
Remove Pet Dander
Remove Dust Mite
Device Supported
:
Recycled
:
Yes
Recycled Content
:
40%
Assembly Required
:
No
Country of Origin
:
United States