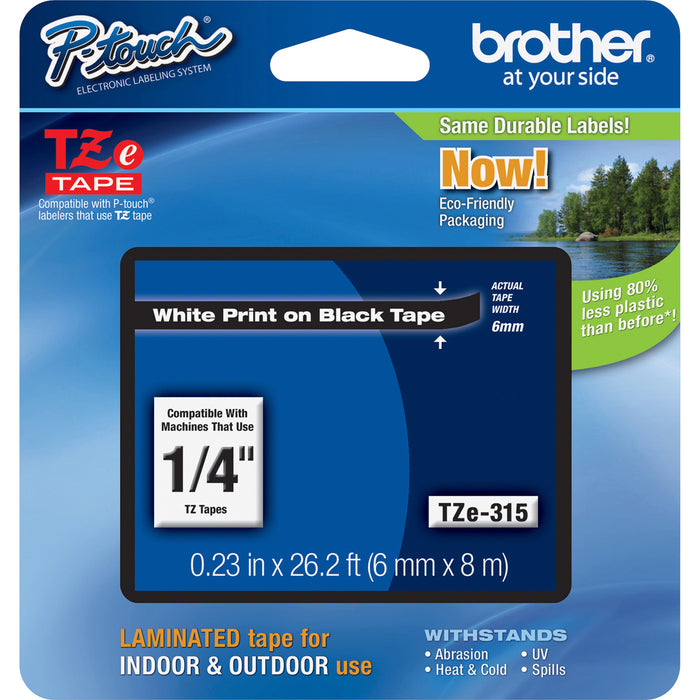 Brother P-touch TZe Laminated Tape Cartridges
General Information
Manufacturer
:
Brother Industries, Ltd
Manufacturer Part Number
:
TZE315
Manufacturer Website Address
:
http://www.brother-usa.com
Brand Name
:
Brother
Product Series
:
TZ
Product Model
:
TZE315
Product Name
:
P-touch TZe Laminated Tape Cartridges
Marketing Information
:
Laminated tape features standard adhesive designed for smooth, flat surfaces like office paper, file folders and binders. These labels stay on under normal indoor and outdoor use, including hot and cold environments. Use with Brother P-touch Labelers using TZ or TZe tapes. They include PT-D200, PT-D210, PT-H100, PT-1010, PT-1090, PT-1230PC, PT-1280, PT-1290, PT-1830, PT-1880, PT-2100, PT-2110, PT-2030, PT-2030AD, PT-2030VP, PT-D400, PT-D400AD, PT-D400VP, PT-D450, PT-H300, PT-H300LI, PT-2430PC, PT-2710, PT-2730, PT-2730VP, PT-D600, PT-1100, PT-1100SB, PT-1120, PT-1130, PT-1160, PT-1170S, PT-1180, PT-1190, PT-1200, PT-18R, PT-300, PT-310, PT-320, PT-1300, PT-1700, PT-1750, PT-1800, PT-1960, PT-330, PT-350, PT-520, PT-540, PT-580C, PT-2200, PT-2210, PT-2300, PT-2310, PT-2400, PT-2410, PT-2500PC, PT-2600, PT-2610, PT-3600, PT-9200DX, PT-9200PC, PT-9400, PT-9500PC and PT-9600. Print color is white. Background is black. Tape measures 6mm (3/13") wide x 8m (26-1/5') long.
Packaged Quantity
:
1 Each
Product Type
:
Label Tape
Product Information
Label Width
:
1/4"
Laminated
:
Yes
Water Resistant
:
Yes
Features
:
Grease Resistant
Grime Resistant
Temperature Resistant
Adhesive
Physical Characteristics
Product Color
:
White
Miscellaneous
Recycled
:
No
Assembly Required
:
No
Country of Origin
:
Japan
Warranty
Limited Warranty
:
90 Day
Additional Warranty Information
:
90 days from the original purchase date or the rated life of consumable, whichever comes first.