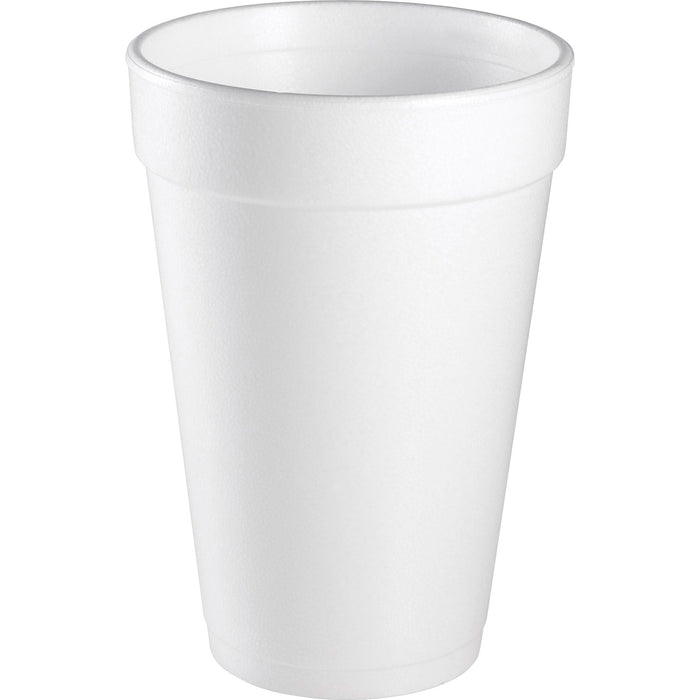 General Information
Manufacturer
:
Dart Container Corporation
Manufacturer Part Number
:
12500152
Manufacturer Website Address
:
http://www.dartcontainer.com
Brand Name
:
Dart
Product Name
:
Insulated Foam Cups
Marketing Information
:
Maintain beverages at their optimal temperature longer with these insulated foam cups. Not only do foam cups keep beverages at their proper serving temperature on the inside, but they also keep hands comfortable on the outside with a strong, one-piece construction. Insulated foam delivers hot or cold drinks the way they were meant to be. Space-saving design allows easy stacking and features a distinctive pedestal. Small drink cups are ideal for coffee, cappuccino, tea, hot chocolate, hot cider, juice and soft drinks. Compatible lids are not included. These 16 oz. cups can be used with Dart 16SL (translucent with straw slot), 16UL (white with sip thru), 16FTL (white with Lift n' Lock), 16FTLS (translucent with Lift n' Lock and straw slot), 16EL (white for cappuccino), 16ELBK (black for cappuccino), 16RCL (reclosable white), 16RCLBK (reclosable black), 16LCD (clear dome), 16LCDH (clear dome with hole) and 16LCDHX (clear dome with 1.9" hole).
Packaged Quantity
:
40 / Carton
Product Type
:
Cup
Product Information
Quantity Per Container
:
25
Container Type
:
Bag
Volume Capacity
:
16 fl oz
Insulation
:
Styrofoam
Application/Usage
:
Cold Drink
Hot Drink
Soft Drink
Physical Characteristics
Product Color
:
White
Product Material
:
Foam
Miscellaneous
Additional Information
:
Quantity Per Container: 25 Cups/Bag
Recycled
:
No
Assembly Required
:
No
Country of Origin
:
United States