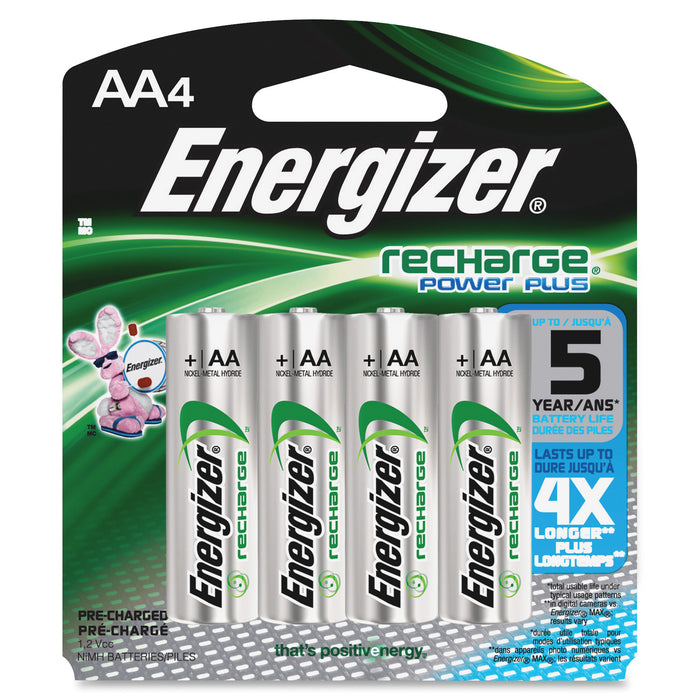 Energizer Recharge Power Plus Rechargeable AA Batteries, 4 Pack
General Information
Manufacturer
:
Energizer Holdings, Inc
Manufacturer Part Number
:
NH15BP-4
Manufacturer Website Address
:
http://www.energizer.com
Brand Name
:
Energizer
Product Model
:
NH15BP-4
Product Name
:
Recharge NiMH AA Batteries
Marketing Information
:
NiMH Rechargeable AA Batteries are designed for high-tech, high-drain devices. Quick and easy to charge. Each lasts for approximately 1,000 charge/discharge cycles (four to five years of normal use). Particularly well-suited for devices requiring high-energy development over a short time. Batteries offer far higher power reserves than standard alkaline manganese batteries. Ideal for everything from digital cameras, portable cassette players, PDAs, handheld games, portable CD players to notebook computers. Durable rechargeable batteries do not contain cadmium. More from the Manufacturer
Packaged Quantity
:
4 / Pack
Product Type
:
Battery
Battery Information
Application/Usage
:
Multipurpose
Battery Rechargeable
:
Yes
Battery Size
:
AA
Battery Chemistry
:
Nickel Metal Hydride (NiMH)
Battery Capacity
:
2300 mAh
Output Voltage
:
1.2 V DC
Physical Characteristics
Height
:
2"
Width
:
0.6"
Depth
:
0.6"
Weight (Approximate)
:
1.06 oz
Miscellaneous
Compatibility
:
Digital Cameras
PDAs
Portable CD Players
Portable Cassette Players
PDAs
Handheld Games
Notebooks
High Drain Devices
Recycled
:
No
Country of Origin
:
United States