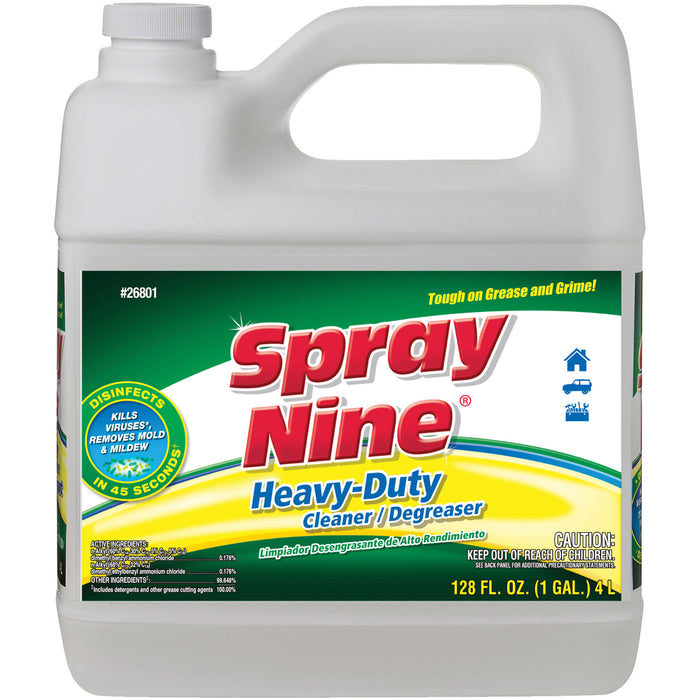 Spray Nine Heavy-Duty Cleaner/Degreaser w/Disinfectant
General Information
Manufacturer
:
ITW Pro Brands
Manufacturer Part Number
:
26801CT
Manufacturer Website Address
:
http://www.itwprofessionalbrands.com
Brand Name
:
Spray Nine
Product Name
:
Heavy-Duty Cleaner/Degreaser w/Disinfectant
Marketing Information
:
Spray Nine's professional-strength cleaning power works hard to remove all types of dirt, grease, grime and stains. It is ideal for facility maintenance, cafeterias, breakrooms, locker rooms and more. This one product has nine uses: 1) cleans; 2) degreases; 3) disinfects against viruses in 30 seconds; 4) disinfects against bacteria in 45 seconds; 5) sanitizes in 10 seconds; 6) kills fungus in 3 minutes; 7) deodorizes; 8) controls mold and mildew and 9) removes stains. Heavy-duty Cleaner/Degreaser Plus Disinfectant is EPA-registered and NSF C1-Rated.
Packaged Quantity
:
4 / Carton
Product Type
:
Multipurpose Cleaner
Product Information
Cleaner Type
:
Liquid
Cleaner Volume
:
128 fl oz (4 quart)
Kill Claims
:
Influenza A Virus Subtype H3N2
Coxsackie B3 Virus
Coxsackie B3 Virus (ATCC VR-30)
Hepatitis B Virus (HBV)
Hepatitis C Virus (HCV)
Herpes Simplex Type 1
Herpes Simplex Type 2
Influenza A H1N1
HIV-1 Human Immunodeficiency Virus Type 1
Norovirus
Poliovirus Type 1
Rotavirus WA
Pathogenic Fungi
Candida Albicans
Trichophyton Mentagrophytes
Bordetella Pertussis
Enterobacter Aerogenes
Escherichia Coli
Escherichia Coli - Carbapenem Resistant CDC81371
Carbapenem Resistant Klebsiella Pneumoniae
Listeria Monocytogenes
Pseudomonas Aeruginosa
Salmonella Enterica
Shigella Dysenteriae
Staphylococcus Aureus
Methicillin-resistant Staphylococcus Aureus (MRSA)
Staphylococcus aureus - Community Associated Methicillin-Resistant (CA-MRSA) (NRS384)(USA 300)
Streptococcus Pyogenes
Recommended Use
:
Soil Remover
Bacteria Remover
Virus Remover
Germs Remover
Mold Remover
Mildew Remover
Grease Remover
Grime Remover
Stain Remover
Dust Remover
Oil Remover
Ink Remover
Tar Remover
Bug Remover
Dirt Remover
Mud Remover
Scuff Mark Remover
Soot Remover
Yellowing Remover
Ash Remover
Application/Usage
:
Multi Surface
Multipurpose
Features
:
Disinfectant
Physical Characteristics
Product Color
:
Clear
Miscellaneous
Certifications & Standards
:
Recycled
:
Yes
Recycled Content
:
25%
Post-consumer-waste%
:
25%
Assembly Required
:
No
Country of Origin
:
United States