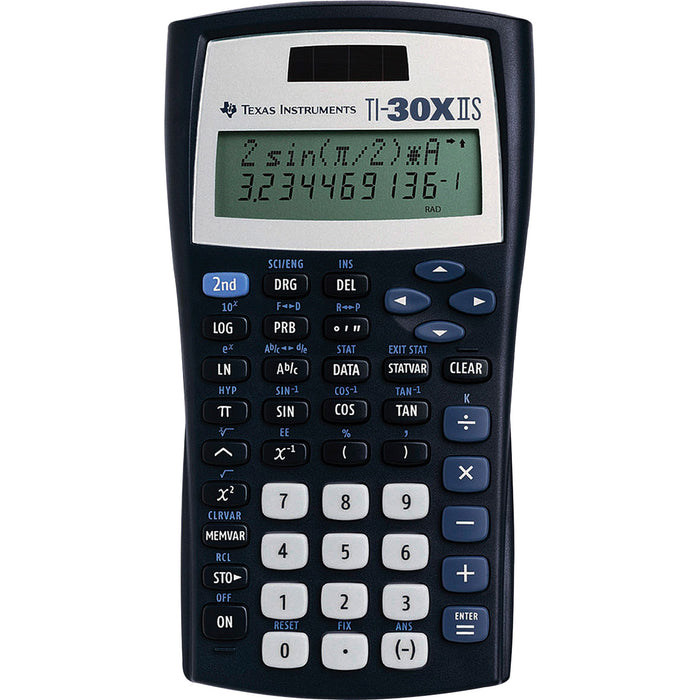 Texas Instruments TI30XIIS Dual Power Scientific Calculator
General Information
Manufacturer
:
Texas Instruments, Inc
Manufacturer Part Number
:
TI-30XIIS
Manufacturer Website Address
:
http://www.ti.com
Brand Name
:
Texas Instruments
Product Model
:
TI-30XIIS
Product Name
:
TI30XIIS Dual Power Scientific Calculator
Marketing Information
:
Scientific calculator with equation recall combines statistics and advanced scientific functions. Two-line display shows entries on the top line and results on the bottom line. Entry line on the top of the display shows up to 11 characters and can scroll left and right up to 88. Result line on the bottom shows up to a 10-digit answer and 2-digit exponent. Functions include common/natural logarithms, fractions, fraction/decimal conversions, degrees to decimal conversion, reciprocals, factorials, grads, hyperbolics, polar/rectangular conversions. Fraction feature allows operations with fractions and mixed numbers. Two-variable statistics allow you to enter, delete, insert, and edit individual statistical data elements. Calculator runs on solar and battery power.
Packaged Quantity
:
1 Each
Product Type
:
Scientific Calculator
Technical Information
Operations/Functionality
:
Trigonometric functions in degrees and radians Fractions
Fraction/Decimal conversions
Common natural logarithms
Reciprocals
Factorials Universal Powers and Roots
Polar/Rectangular conversions
2-Variable statistics: Enter, Delete, Insert, Edit
Hyperbolic
Grads
Display & Graphics
Number of Display Lines
:
2
Display Screen Type
:
LCD
Battery Information
Power Source
:
Battery/Solar
Physical Characteristics
Height
:
6.1"
Width
:
3.2"
Depth
:
0.8"
Weight (Approximate)
:
4.80 oz
Miscellaneous
Recycled
:
No
Assembly Required
:
No
Country of Origin
:
Philippines