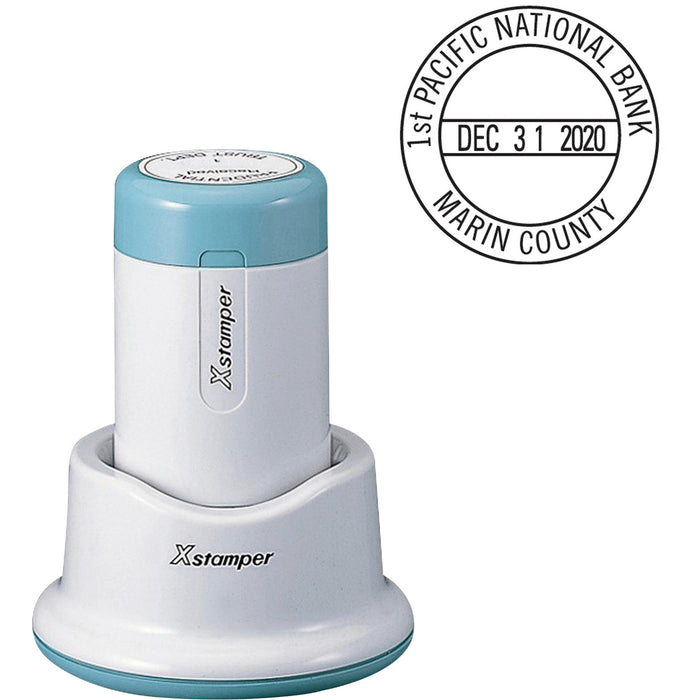 Xstamper Small 4-Line Custom Round Dater
General Information
Manufacturer
:
Shachihata, Inc
Manufacturer Part Number
:
N85
Manufacturer Website Address
:
http://www.shachihata.co.jp/english/
Brand Name
:
Xstamper
Product Line
:
XpeDater
Product Model
:
N85
Product Name
:
Small 4-Line Custom Round Dater
Marketing Information
:
Small custom dater is designed to make date stamping easy. Personalize with a message, signature, logo or artwork. Pre-ink in either red, black, blue, green, purple or orange. Dater generates up to 50,000 impressions before re-inking. Dater is easy to use with no tweezers or tools needed to change date. Simply twist open and turn date. Handy ink cap makes dater easily portable. Dater comes with pre-inked base for desk use or counter use. Ideal for inspection dater. Impression size is 1-3/16". Stamp one to four lines with 18 characters per line. Stamp contains a high percentage of recycled material. Contact customer service to customize dater. Complete orders are shipped within 48 hours of receipt by Xstamper.
Packaged Quantity
:
1 Each
Product Type
:
Pre-inked Stamp
Product Information
Impression Type
:
Date Stamp
Impression Diameter
:
1.19"
Number of Impressions
:
50000
Re-inkable
:
Yes
Physical Characteristics
Weight (Approximate)
:
4.48 oz
Miscellaneous
Recycled
:
Yes
Recycled Content
:
84%
Post-consumer-waste%
:
84%
Assembly Required
:
No
Country of Origin
:
United States